Meme Central  Books  Level 3  Resources  Richard Brodie  Virus of the Mind  What's New?  Site Map
Welcome to Richard Brodie's Home Page
---
---
Richard Brodie Frequently Asked Questions (FAQ)
| | |
| --- | --- |
| | |
| | <![if !vml]><![endif]>I'm playing poker and entering many of the major televised tournaments. I have three televised final-table appearances in season two of the Ultimate Poker Challenge. You can read about my exploits at www.liontales.com. |
| Do you consult or do keynote speeches? | No, I'm busy improving my poker game. |
| I noticed you're looking a little slimmer these days. Have you lost weight? | <![if !vml]><![endif]>Yes. I bought a recumbent exercise bike that allows me to play poker online while I'm exercising. |
| | |
| Can you help me with this Microsoft Word problem I have? | Search the Microsoft Knowledge Base or call Microsoft Product Support. The direct line for Word for Windows is 425-462-WORD. For Word for Macintosh, it's 425-635-7200. |
---
My best-selling book, Virus of the Mind, is about the new science of the meme. Memes are pieces of mental programming or conditioning that people acquire throughout their lives. Viruses of the mind spread the (perhaps unwanted) mental programming among people the way computer <![if !vml]>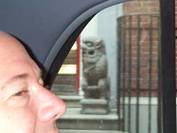 <![endif]>viruses infect computers.
My first book, Getting Past OK, is about what I did after I had achieved everything I thought would make me happy--but I wasn't. I explored numerous personal-growth groups with my unabashedly rational and critical mind and was surprised to find, among the hype and B.S., a few ideas so useful that they made a stunning difference in my quality of life when I applied them!
You can order my books on-line through Amazon.Com, though bookstores, or by phone or mail order. Or you can read them for free at your local library. If your library or bookstore does not carry them, ask them to order a copy—they are often more than happy to help you out!
Last Edited: March 19, 2008
© 1996-2008 Richard Brodie. All rights reserved.